Auf unserem Rückflug am Silvestervorabend haben wir noch auf dem Flughafen von Lissabon beschlossen, so schnell wie irgendmöglich auf die Insel zurück zu kehren. Dieses Mal mit unseren Bikekollegen. Uns war klar, dass es ein schwieriges Unterfangen sein würde, die Schneephilen auf's Bike zu locken und das mitten in den Atlantik. Osttirol und Südtirol versanken zu diesem Zeitpunkt gerade meterhoch im Schnee, eifrig wurden Skier gewachst, Felle aufgezogen und nach unverspurten Schneehängen gejagt.
Erste Anlaufstation unsere Teammates, Fehlanzeige! Mit oder ohne Schnee gehe der Winter bis April, die ernüchternde Antwort. Aber was wäre ein Kartenspiel ohne Joker, blond, blauäugig und Hansdampf auf jeglichem Trail, Markus. Zum einen kam der andere, mit Ende der ersten Januarwoche stand dann fest: 6 BikerInnen wagen die Winterflucht.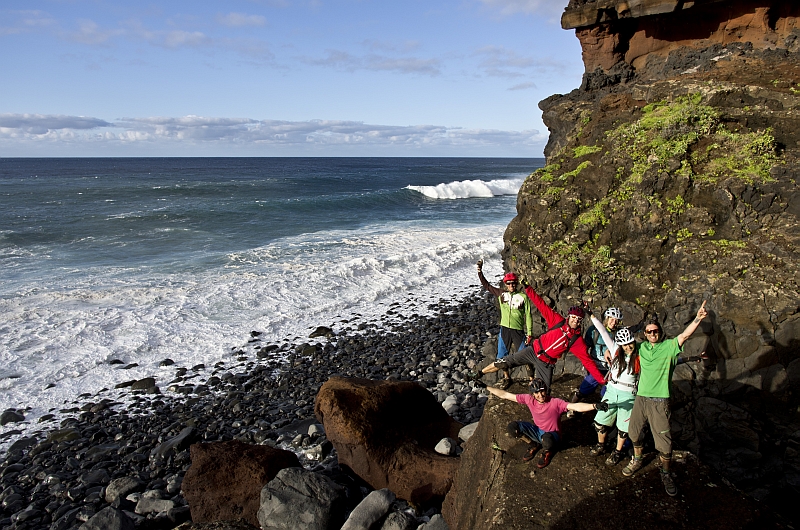 Die Jungs von Freeride Madeira kontaktiert haben wir mit einem Kurzfilmprojekt und einer Supertrailstory im Gepäck dann auf unseren Abflug Mitte Februar gewartet. Wir haben viel versprochen, die anderen haben viel erwartet. Wie es war und ob die Erwartungen erfüllt wurden in den unparteiischen Worten des Hills2rider:
Freeride Madeira, Jungle Biking and Island Atmosphere. Eight days of shuttling, one day pedaling and never ending trails. From smooth lines with berms and jumps over wet rock gardens with lots of speed to very technical and exposed vertride sections everything was present. The quality of the trails varied from amazing to totally insane! The terrain: Wide open ridges, deepest jungle and steep cliffs straight into the sea. The Crew consisted of:
Axel: Male Vertriders Superstar, German roots, Tyrolean of choice for more than ten years.
Gordon: Inofficial Austrian Masters Downhill Champion, German roots, Tyrolean of choice for more than ten years.
Martin: Fast and nearly undestructable (Angie excluded), German roots, accepted as Tyrolean since the Discovery of America.
Sylvia: Female Vertriders Superstar, Southtyrolean, which means Italian
Irene: Austrias future Enduro hope, Upperaustrian, maybe Tyrolean of choice soon.
and me: Blond, blue eyed, trailaddicted, Upperaustrian, Tyrolean of choice for less than ten years.
We were sleeping in Villa "O Lugarinho" with a quite cold, but frequently visited outdoor pool.
Starting from here the Guides of Freeride Madeira (John, Roberto and Nulo) showed us the Trails on the whole Island. Day one was the first of in a whole 8 Trailfireworks. The initial diffidence, because of more than three months bike abstinence was gone quite fast, and we soon started flying (note: without crashing) over several gaps (keyword: AxelAir). After four runs and lots of 'Juchezer' we rode Axel's Madeirian Signature Trail, which he checked out two months ago. A steep, slippery, quite exposed vertride path leading directly into the roaring waves of the ocean. What a day!! The following days weren't less amazing, here is a short summary: typical Madeirian jungle trails, descents through five vegetations zones, endless riding, ridge riding, stunning sunsets, icredibile descents form the highest peaks, MEGATRAIL, slippery stairs
, talking bullshit, drinking beer, eating Espetada and Tuna Steaks. Did I mention the insane Trails??
The days were long, we only once reached our Villa before sunset. The Guides did a really good Job, sometimes till the middle of the night! Except from the Trails they introduced us to Espetada and Poncha. The first one, Espetada, is a typical Madeirian dish made usually of large chunks of beef rubbed in garlic and salt, skewered onto a bay leaf stick cooked over hot coals or wood chips. In our ten days on the island, it was our main dish for sure. Poncha is a traditional alcoholic drink made with Aguardente de cana, honey, sugar, lemon and orange juice. Maybe the Poncha was the reason that we all lost against a women in table soccer one evening in a small bar. The other explanation could be, that she was the eight best female table soccer player in the world…
I say thanks to our guides from Freeride Madeira, thanks to the crew for making breakfast (getting out of the bed is definitely not my strength) and thanks to Axel and Sylvia for organizing this rememberable holiday. It was a really nice winter break and calls for a repeat! I can recommend Madeira to every Biker out there, just pure fun trail riding! With this in mind my last to words, which in my opinion describe our feelings on the Madeirian trails quite well: BADA BING!!!
We'll be back again and again, Sylvia.
More pictures to come!